Sharon Lavery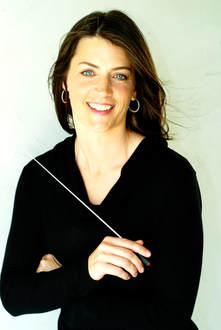 Sharon Lavery's extensive career has led her to conduct in preeminent concert halls across the United States, including Carnegie Hall on several occasions. Currently, she serves as resident conductor of the Thornton Symphony, Chamber Orchestra and Wind Ensemble at the University of Southern California Thornton School of Music. She has led the USC Thornton ensembles in concert on many occasions and, for seven years, served as music director of the Thornton Concert Orchestra. In addition to these duties at USC Thornton, Lavery teaches instrumental conducting classes.

Outside of USC, Lavery enjoys a distinguished career both locally and internationally. Since December of 2007 she has been music director of the Downey Symphony Orchestra, a professional ensemble hailed as one of the best metropolitan orchestras in Southern California. This position has brought Lavery great acclaim for her innovative programming. During her tenure as music director, she has premiered or commissioned a new composition each season.

Maestra Lavery has attained prominence as a conductor throughout California. Since 2004 she has held the post of cover conductor for the Pacific Symphony Orchestra, and she has served as cover conductor for the San Diego Symphony as well. Lavery has led the La Jolla Symphony in concert, served as assistant conductor to the Pasadena Symphony, and for many years was associate conductor of the Herbert Zipper Orchestra of Los Angeles.

Lavery is also nationally known as an advocate for music education. In addition to conducting the California All-State High School Concert Band, she has conducted the Texas 4A All-State Band, and has appeared three times as conductor of the Honors Performance Series Band – a national honors ensemble that performs at Carnegie Hall and consists of some of the most elite high school musicians in the country. Miss Lavery has also served as a guest conductor for several district honor bands throughout California.

Previously, Lavery served as music director of the MUSE International Music Day Festival in Chiba, Japan. Performances of works she has conducted (both orchestra and wind ensemble) are frequently aired on the largest non-profit classical music station in the country, Classical KUSC (91.5).

Hailing from Ossining, New York, Lavery received her bachelor of music education degree from Michigan State University and master of music in clarinet performance from the New England Conservatory of Music. She also earned a master of music in orchestral conducting from USC Thornton, receiving the Leonard Bernstein Memorial Scholarship for two consecutive years.





---