Upcoming Events

Come to
Our Cabaret
as the Downey Symphony celebrates its 60th anniversary! The festivities take place on Sunday, July 1st from 4:00-7:00pm ON THE STAGE of the Downey Theatre, 8435 Firestone Blvd in Downey. You will be seated in "orchestra sections" on stage and will enjoy complimentary champagne and wines, hearty hors d'oeuvres by candlelight, an anniversary cake, live entertainment, and the rousing finale in which you perform in an "orchestra" under the baton of Music Director, Sharon Lavery. Selfies encouraged. Seating is limited to the first 120 reservations. The cost is $60.00 and all reservations must be received by Wednesday, June 13. For more information contact Joyce Sherwin at 562-928-4122. To purchase a reservation online, click
here
to visit our donation page... Please designate "
60th Celebration
" in the Pay Pal section under your $60 amount: "Add special instructions to the seller".
Upcoming Concert
Pops in the Park!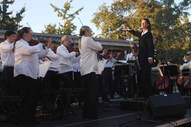 July 18, 2018
7:00pm
Furman Park, Downey
Join us for our annual "Pops in the Park!" concert on
July 18th at 7:00pm.
This concert is a
free
event in Downey's beautiful Furman Park. Bring lots of food, drinks and good friends for a spectacular evening under the stars. Plus, don't forget to bring the kids... they'll thank you when they each get the chance to conduct the orchestra at the end of the concert!
For more information click
here
---
---

​Message from the Music Director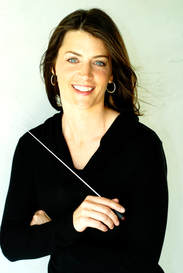 Sharon Lavery
Thanks to all of you for a wonderful 59th Season! Your generosity and support is so appreciated by all of us at the Downey Symphony organization, and we look forward to seeing you at our concerts in the upcoming season as we celebrate our 60th anniversary! Please don't miss our kick-off party for this significant achievement of 60 years by attending Our Cabaret celebration on July 1st.

Thanks, as always, for your ongoing loyalty and support,

Sharon Lavery


---
---
Click below when making purchases on Amazon.com
---
---

DSO logo design by Sini Henttonen